Special Discount: Don't miss our
BAGEL OF THE MONTH
offer. Hurry, Offer expires Dec 02,2023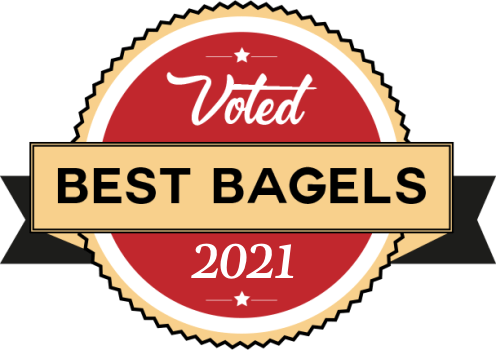 Fresh New York Style
HAND-ROLLED BAGELS
DELIVERED RIGHT TO YOUR FRONT DOOR

FREE 2-Day Shipping
Delivered Nationwide

Satisfaction Guaranteed
100% Money-Back Guarantee

Customer Recommended
Voted Best Bagels
WHAT IS BAGEL KING'S OF NEW YORK?
Have FRESH Authentic New York bagels delivered right to your home or business anywhere in the United States. Enjoy
FREE 2-Day Shipping
1. Select Your Bagels
Choose your favorite flavors and select a delivery frequency that works for you.
2. We Package and Ship it
Our bagels are made fresh daily, safely packed and delivered right to your front door.
3. Enjoy Your Bagels!
Enjoy your fresh New York hand-rolled bagels. It's easy and convenient.
Why

BAGEL KING'S OF NEW YORK
The founders of Bagel King's of New York are obsessed with the idea of making authentic fresh bagels accessible to everyone. After serving thousands of loyal customers in New York, we decided to make our products available online and deliver it everywhere in the country! We believe everyone should have access to amazing high quality bagels, wherever you are!
Convenience
Our program allows you to easily customize your order preferences. You can pause, modify or cancel your subscription at any time.
Value
Save time and money by subscribing to our program. Get Free Shipping for the life of your membership.
Quality
We use time tested recipes for hand-rolled authentic New York bagels. Our products are made fresh every day in all our stores.
Over 50,000 Happy Customers!
Ron Quartararo
The bagels arrived and were indeed better than our best bagel store here in north Tampa. I found that freezing them, then microwaving for 3 minutes on lowest setting, followed by toasting works best.
Kristin Turner
Your bagels are delicious!
Kenneth Gaintz
If your looking for real fresh bagels in New England then order from New York. Price is great on delivery and wick shipment. And I was very pleased with them. Great food.
Amy Ashworth
We enjoyed our bagels and look forward to having them again.
Carol Seguin
Very good just ate my 1st one. Yum!
Patricia A. Flora
Well - we are so pleased with our order!!! Outstanding flavor and esp. love the mini-bagels for breakfast. Will definitely order again.
Brian Mastro
The best bagels in the world.
Patrice Barattini
The bagels are delish had one the minute they came!
Lee Grazer
Bagels are top notch...really enjoyed the treat!
Lindy Whetzel
Ordered a dozen, they arrived fresh...these bagels are very yummy!!
Mike Petit
Got my bagels tonight 1 1/2 days after ordering tomorrow AMs breakfast smell sooo tempting after opening the box tonight. Thank you very much!
Karen Wilson
OMG, they are delicious, guaranteed on time delivery!! Their prices are very much worth it!!
Brad Montes
OMG this site is AMAZINGGGGG! These guys have the fastest shipping ever, highly recommend.
Lucinda Cassidy
Painless and easy process! Highly recommend it!
GET THE BEST
New York Style
HAND-ROLLED BAGELS
DELIVERED RIGHT TO YOUR FRONT DOOR
Frequently Asked Questions
Where in the US do you ship to?
We are only serving the Continental United States. At this time, we are NOT able to ship to Alaska, Hawaii, Puerto Rico, Military Bases, P.O. Boxes or Internationally.
When can I expect my order to arrive?
We ship overnight and two day, so your order will get to you within 1-2 days. All Bagels are seal packed to keep fresh. We ONLY ship Monday-Thursday.
How long will my bagels stay fresh?
All of our bagels are hand-rolled and made fresh to order and made the same day. Our bagels are packaged to stay fresh for at least 12 hrs after delivery.
If you do not intend to eat your bagels within the first day or two, please freeze them. It generally takes roughly 3 hours to thaw before they are ready to eat.
What do you use to package and ship bagels in?
All orders are currently shipped in 2 sleeves of 6 bagels each. Therefore, any single order may consist of up to 2 bagel flavors.
Do you offer Vegan or Gluten Free Options?
Other than the Egg Bagel, our bagels are 100% Vegan.
Are you a nut free environment? Do your bagels and spreads contain nuts?
While our bagels do not contain nuts, our Everything bagels do contain poppy seeds. We are not a certified nut free environment.
How can I cancel my membership?

That's easy! Once an order is placed we will provide you with a link that will allow you to cancel membership, adjust shipping frequency and even revise your bagel flavor selection. You're in control.
If I am not satisfied with the bagels, can I get a refund?
We are so confident in our bagels that we offer our clients a 100% moneyback guarantee.
Choose Your Bagel Box
Order Today And Get Free Shipping!